It's the most wonderful time of the year! Get those jingle bells; it's time to rock around your Christmas tree with this cheer-filled list of Christmas songs!
Whether Michael Bublé is your Christmas music saint or you're looking for some hidden gems to mix it up this holiday season, we've got the ultimate list of Christmas songs waiting for you. Our Christmas songs list is divided into carefully curated sections, and we've taken the liberty of putting each section's list in alphabetical order. Let's get real, we couldn't rank these Christmas songs; they're all special and full of holiday magic.
We've also done you a solid and added easy-to-click-on links to lyrics, videos, and Spotify for a simple and entertaining Christmas songs experience. Make your Santa Hat is securely fastened; time for a Christmas songs jam session!
Christmas Songs With Lyrics
Majority of these Christmas songs we've been singing and bopping along to for as long as we can remember! And sometimes, as many times as we may have heard it, we don't exactly know what they're saying. You've got desserts and presents on your mind; who could blame you!
Not only will you be able to easily click on the lyrics link to access each Christmas song's lyrics, but we've also provided links to their YouTube video and a Spotify link. Time to rock out to some Christmas songs with lyrics; enjoy!
Christmas Songs For Piano
We love rocking around the Christmas tree, but there's something about hearing Christmas songs on a piano with a fireplace crackling that you just can't beat. It's classic and cozy, and to be honest, it feels like time slows down during the busy nature of the holiday season when you're listening to Christmas songs for piano.
This section is for those who want to play some Christmas songs on the piano this year. We've selected some holiday favorites and linked each song's piano chords for easy access. Get your vintage and cozy Christmas vibes on!
Christmas Songs In Spanish
Everyone knows the totally awesome and catchy holiday jam Feliz Navidad, but there are so many Christmas songs in Spanish that are being missed out on! Take a look through our Christmas songs in Spanish list, and be sure to click on the Spotify links next to them so you can take a listen. Step into a new Christmas songs world, and who knows, you may have some new Christmas songs to add to your playlist!
Christmas Songs Ukulele
Sometimes the World doesn't agree on much, but we think it can agree on two things. One, Christmas songs are wholesome. Two, Ukuleles are fun. And why, by golly, when you put those two things together, you've got some wholesome and fun Christmas songs Ukulele style!
If you're a beginner or you've been strumming the Uke for a while, you can access the Ukulele chords and listen to each of these Christmas songs in one easy click. Impress your family and friends this Holiday by giving them a new experience and sound to their beloved Christmas songs!
Christmas Songs About Love
Each day should be a day we cherish the one we love, but there's a tone found in Christmas songs about love that really amps up the romantic in all of us. We've compiled a lovey-dovey list of Christmas songs about love that you can watch and see the lyrics to. From the blues of Christmas to the jumping for joy so in love Christmas, we've got you covered with these Christmas songs!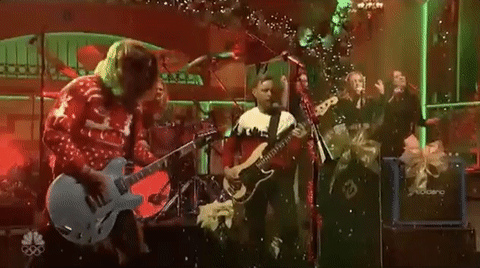 Christmas Songs On Guitar
Break out those strings man, and play some Christmas songs on guitar by the fire; we're kicking it acoustic this Holiday! Can you imagine sitting around with your loved ones, playing the guitar to Christmas songs classic,s and everyone joining in together? What a beautiful and treasured memory that would be. And possibly even a new Holiday tradition!
Take a look through these Christmas songs for guitar, and feel free to click on the provided links to see access the guitar chords for each Christmas songs notes. Have some jolly strumming!
Perhaps it's cliché, it's the lesson embedded in almost every Christmas movie or themed episode, but it's utterly true that the purest reason for this holiday season is to be together and cherish those you love. So, put on some Christmas songs in the background and really be in the present moment with your family and friends.
Even More Christmas Ideas