Happy National Coffee Day to all coffee lovers, and welcome to your ultimate guide to this espresso-filled holiday!
Coffee aficionados throughout the United States and Canada have been waiting with all their little caffeinated hearts to celebrate National Coffee Day. A time to reflect on all those delicious cups of coffee you've had, your first cup of coffee with the love of your life, or the countless times coffee has saved you from falling asleep on the job.
Coffee, in all its many buzzing forms, is a hero to us all. And we don't want to take something so precious for granted, do we? Of course not! So, let's throw on our 'I love coffee shirts', turn the coffee pot on, and get this caffeine parade going!
Sprinkled in this caffeinated article are National Coffee Day gifs, quotes, Instagram captions, facts about coffee, and even songs about coffee and so much more! Pour yourself a nice cup of joe and stir to your heart's desire; we're off to the magic bean juice world of coffee!
When Is National Coffee Day?
National Coffee Day is celebrated on September 29th of every year in the United States, Ethiopia, Poland, Sweden, Canada, Norway, Romania, Austria, Iceland, Belgium, Pakistan, Hungary, India, Philippines, South Africa, and Taiwan.
There are a number of reasons why this minor holiday was created, and they all come together in a bundle of coffee greatness and terrific reasons to celebrate one of our favorite beverages!
One reason, in particular, for the origins of National Coffee Day and International Coffee Day, is the hope of raising awareness and action for the fair trade of coffee and the hard work of coffee farmers. This is quite the eye-opener that coffee shouldn't be taken for granted. It should be appreciated because a lot more than we can even fathom goes into the hard work that brings us a cup of coffee.
Let National Coffee Day be your reminder to acknowledge the little wonder that's packed into the coffee beans that you pour into your grinder to make a warm cup of joe in the comfort of your home. There's a lot to be thankful for every day!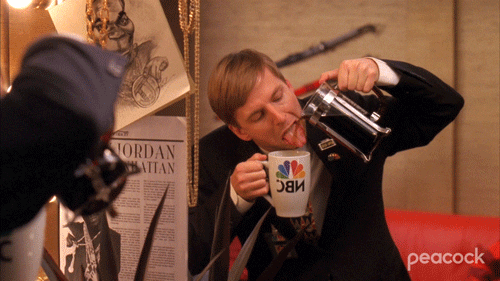 How to Celebrate National Coffee Day
The only wrong way that we can think of to celebrate National Coffee Day is NOT to drink coffee. Besides that, there isn't a wrong way to go about it! Take a look through our brainstorms of how to celebrate National Coffee Day to get you in the celebratory spirit and get those fun-spirited ideas brewing!
Support your local coffee shops. Of course, we all know our Starbucks and Dunkin Donuts orders by heart. But the real heart of coffee lies in the wall of an independently owned local coffee shop. You're bound to get a wonderful cup of coffee and a unique atmosphere; who could ask for more on National Coffee Day?
Explore different types of coffee! There are so many variations of coffee; it's nuts! And what better day than National Coffee Day to be adventurous and try out something new? Local coffee shops always have specialty drinks you can try out. And there are tons of ways coffee can be prepared; from Americanos to Macchiatos, there are lots to explore. Better yet, if you go to a local coffee shop ask the Barista what their favorite drink is and give it a whirl!
Get creative! Make some coffee stain art, write a poem about your love for coffee, and doodle some cute mugs; the creative world is your oyster on National Coffee Day! Or should we say, your coffee bean!
Treat yourself. National Coffee Day is also a perfect way to get some self-care time in. Get a nice cup of coffee for yourself, go to a bookstore, sit at the park and read; whatever self-care looks like for you, you should do it. Act like you're the main character of a book!
Host a coffee hangout. Whether you serve the coffee for your guests or everyone brings a different brew to try and share, invite your friends or family over for some lovely coffee time! This doesn't have to be anything fancy. Simply throwing on a movie/TV or music for background noise and sitting in the living room or around the kitchen table to catch up is all it needs to be. National Coffee Day should be shared with those you love and who share your love for coffee!
Purchase a new coffee maker. This is a bit on the splurge side, depending on how you go about purchasing. You could always head to your local thrift stores and see what's brewing! Or, the alternative Amazon and Target never fail. If you typically use a drip coffee method, which is your standard coffee pot, perhaps try something new! To name a few types of coffee makers: Cowboy Coffee, Pour Cover, French Press, Moka, Cold Brew, and Percolator!
National Coffee Day Quotes
Hype yourself up for the wired and wonderful celebration of National Coffee Day by reading through specially picked quotes about coffee! Ranging from famous to hilarious, to quirky and rare, these National Coffee Day quotes will get you in the caffeine mood and also bring you a sentimental sense of closeness with your tasty brew.
"All I really want to do today is go to the bookstore, drink coffee and read." – Ann Marie Frohoff
"As long as there was coffee in the world, how bad could things be?" – Cassandra Clare, City of Ashes
"Drink coffee! Do stupid things faster and with more energy!" – Darynda Jones, Fourth Grave Beneath My Feet
"It is inhumane, in my opinion, to force people who have a genuine medical need for coffee to wait in line behind people who apparently view it as some kind of recreational activity." – Dave Barry
"It doesn't matter where you're from – or how you feel… There's always peace in a strong cup of coffee." – Gabriel Bá, Daytripper
"The whole purpose of places like Starbucks is for people with no decision-making ability whatsoever to make six decisions just to buy one cup of coffee. Short, tall, light, dark, caf, decaf, low-fat, non-fat, etc. So people who don't know what the hell they're doing or who on earth they are can, for only $2.95, get not just a cup of coffee but an absolutely defining sense of self: Tall. Decaf. Cappuccino." – You've Got Mail (1998)
"I think the key to the start of any good relationship is to remember how the other person likes their coffee." – J. Lynn, Wait for You
"Don't ever let anyone tell you that fairy tales aren't real. I drink a potion made from magic beans every day, and it brings me back to life." – Nanea Hoffman
"Today's good mood is sponsored by coffee." – Unknown
"Life is very much like coffee – the aroma is always better than the actuality." – Born to Kill (1947)
"Coffee, she'd discovered, was tied to all sorts of memories, different for each person. Sunday mornings, friendly get-togethers, a favorite grandfather long since gone, the AA meeting that saved their life. Coffee meant something to people. Most found their lives were miserable without it. Coffee was a lot like love that way. And because Rachel believed in love, she believed in coffee, too." – Sarah Addison Allen, The Peach Keeper
"Coffee is to wake up, coffee is to work with, coffee is to live with, coffee is life." – Jim Parsons
"Come on, don't you ever stop and smell the coffee?" – Justina Chen Headley, North of Beautiful
"A morning coffee is my favorite way of starting the day, settling the nerves so that they don't later fray." – Marcia Carrington
"Do you know how helpless you feel if you have a full cup of coffee in your hand and you start to sneeze?" – Jean Kerr
"Mornings are for coffee and contemplation." – Stranger Things
"Ah coffee. The sweet balm by which we shall accomplish today's tasks." – Holly Black, Ironside
"I like my coffee with cream and my literature with optimism." – Abigail Reynolds, Pemberley by the Sea
"A yawn is a silent scream for coffee." – Unknown
"I have measured out my life with coffee spoons." – T.S. Eliot, The Love Song of J. Alfred Prufrock and Others
"Coffee and chocolate—the inventor of mocha should be sainted." – Cherise Sinclair, Hour of the Lion
"Coffee spelled backward is eeffoc. Just know, that I don't give eeffoc until I've had my coffee." – Unknown
"This is espresso, you know? It's like Coffee-zilla." – The Iron Giant (1999)
"Coffee is a way of stealing time that should by rights belong to your older self." – Terry Pratchett, Thud!
"You'll need coffee shops and sunsets and road trips. Airplanes and passports and new songs and old songs, but people more than anything else. You will need other people and you will need to be that other person to someone else, a living breathing screaming invitation to believe better things." – Jamie Tworkowski
"Oh, I can't stop drinking the coffee. I stop drinking the coffee, and I stop doing the standing, walking, and words putting into sentence doing." – Gilmore Girls
"They like their coffee like they like their ex-boyfriends: bitter." – John Green
"Just coffee. Black – like my soul." – Cassandra Clare, City of Bones
"My morning coffee makes me feel like I got my crap together. I don't. But it feels like it." – Unknown
"I drank coffee and read old books and waited for the year to end." – Richard Brautigan, Trout Fishing in America
"How much better is silence; the coffee cup, the table. How much better to sit by myself like the solitary sea-bird that opens its wings on the stake. Let me sit here for ever with bare things, this coffee cup, this knife, this fork, things in themselves, myself being myself." – Virginia Woolf, The Waves
"I'd never met coffee that wasn't wonderful. It was just a matter of how wonderful it was." – Laurell K. Hamilton, The Killing Dance
"How do I take my coffee? Seriously. Very seriously." – Unknown
"Without my morning coffee. I'm just like a dried-up piece of goat." -J.S. Bach
"The difference between coffee and your opinion is I asked for coffee." – Unknown
"What on earth could be more luxurious than a sofa, a book, and a cup of coffee?" – Anthony Trollope, The Warden
"We met at Starbucks. Not at the same Starbucks but we saw each other at different Starbucks across the street from each other." – Best in Show (2000)
"First I drink the coffee, then I do the things." – Unknown
"What goes best with a cup of coffee? Another cup." – Henry Rollins
"Sometimes life is merely a matter of coffee and whatever intimacy a cup of coffee affords." – Richard Brautigan
"Spilling coffee is the adult equivalent of losing your balloon." – Unknown
"Even bad coffee is better than no coffee at all." – David Lynch
"If this is coffee, please bring me some tea; but if this is tea, please bring me some coffee." – Abraham Lincoln
National Coffee Day Captions for Instagram
We can all admit that sometimes a cup of coffee is so pretty that it must be captured. If you know, you know. But on such an important day like National Coffee Day, what sort of caption should you use? You can go for the classic "Happy National Coffee Day! ☕" but maybe you want to jazz it up a bit, and you need some ideas.
Well, look no further! Check out these National Coffee Day captions for Instagram that range from silly to witty. 1 … 2 … 3, say coffee beans!
Brew ♨️ Coffee ☕ ACTION! 🎬
"Is there anything better than iced coffee and a bookstore on a sunny day? I mean, aside from hot coffee and a bookstore on a rainy day." – Emily Henry, Book Lovers
"My birthstone is a coffee bean." – Unknown
Coffee ✔️ Book ✔️ Everything else, can wait ✋
"I don't need an inspirational quote. I need coffee." – Unknown
National Coffee Day, meet me @ the cafe ☕
"I'd rather take coffee than compliments just now." – Louisa May Alcott, Little Women
"I like my coffee how I like myself: dark, bitter, and too hot for you." – Unknown
Who said there's more to life than coffee? Have they had coffee? It's magic in a mug! ☕
"My coffee is strong and so am I." – Unknown
"No matter what historians claimed, BC really stood for "Before Coffee." – Cherise Sinclair, Master of the Mountain
"Coffee is a hug in a mug." – Unknown
Give yourself a little coffee break 😌☕
"Life happens, coffee helps." – Unknown
Can we find a way to transform coffee into a [partner/boyfriend]? Strong 💪 Sweet 🍯 On Time ⏰ Steamy ♨️ ???
"Not all those who wander are lost. Most of them are just looking for coffee." – Unknown
🔥Time to Slay on National Coffee Day 🔥
"Going to get coffee! Going to get coffee!" – Gerard Way
Coffee Vibes Only ✌️☕
"Coffee! Because crack is bad for you." – Unknown
I'm not a judgemental person … unless your order is more syrup than coffee ☕
"Coffee: Survival Juice." – Unknown
National Coffee Day ☕ YAY! 🥳
"Wanna hear a joke? DECAF." – Unknown
What's in the mug? Espresso? Mocha? Irish? It's all coffee to me! ☕
"I like BIG CUPS and I cannot lie." -Unknown
"Adventure in life is good; consistency in coffee even better." – Justina Chen Headley, North of Beautiful
If I ever win an award, I'm thanking coffee. 🏆
"Coffee first. Schemes later." – Leanna Renee Hieber, Darker Still
OFTD on National Coffee Day 😉
Spotify Coffee Playlists
Isn't it so comfy and peaceful when you're sitting in a coffee shop with just the right music floating about all the coffee patrons, and you're enjoying a nice brew? If you're chilling at home or have headphones at the office and you want that magical feeling of the coffee shop music brought to you, check out these Spotify coffee playlists!
There's something for everyone to enjoy in these coffee playlists, just hit shuffle and be transported to a quaint little cafe on a beautiful autumn day.
6 Interesting Fast Facts About Coffee
We all love a good fast, and interesting fact! Here are some coffee facts that you can use to spruce up your conversations with fellow coffee lovers on National Coffee Day!
1 Black Coffee = 1 Calorie. Beat that, apples! (Just kidding, we love you, apples.)
Coffee can actually help reduce the risk of Parkinson's, cardiovascular disease, and type 2 diabetes! In short, the top-notch smarty pants researchers at Harvard Health are low-key, saying coffee enthusiasts may live a bit longer. Carry that fact with you everywhere!
The coffee-growing hot spot is Brazil, for it produces the most coffee on Earth.
There's such a thing as an overdose of coffee. It's true! But before you're jittery hands start to panic, you most likely won't come close to this, for one coffee-crazed person would need to drink over 30 servings of coffee in a limited amount of time.
Although we call them coffee beans, in more specific terms, they're actually seeds! The seed comes from shrubs with berries growing; who would have thought?
Did you know that in Italian, the word Espresso (The magical bean juice that makes us 10x faster) translates to pressed out? All the baristas out there are nodding away, for this term is directly referencing the process in which espresso is prepared!
12 Coffee Guinness World Records
The world sure does love coffee, so much so that there are quite a lot of mind-boggling records in favor of it! Let's check out these crazy coffee Guinness World Records; maybe you'll think of a record to start or break yourself on National Coffee Day.
Feel the coffee spirit buzzing through you? Or do you need a water break in between your cups of coffee? Either way, you're ready to celebrate National Coffee Day with quotes, songs, facts, and gratitude!
More Fun Quotes and Sayings