It's that especially awesome day of the year where you raid your closet for all the green you have and everyone swears they have the best Irish accent. It's St. Patrick's Day!
There's a lot more to St. Patrick's Day than sporting your green or going to the pub with your best mates. This day is surrounded by quite a bit of history, so let's dig into the lore of this festive holiday and celebrate with St Patrick's Day quotes, messages you can write in a fun-filled card, and more!
When is St Patty's Day?
St. Patty's Day is celebrated around the world on March 17th! The man behind the entire holiday, St. Patrick, is said to have passed away on March 17th. Hence the reason why the holiday is celebrated on that specific day every year. What a way to be honored!
Curious about the meaning behind St. Patrick's Day? Keep reading to discover more!
Why is St Patrick's Day Celebrated?
Way back when in the 1600s St. Patrick's Day was celebrated around the patron St. Patrick for building Christian communities within Ireland and popularizing the Christian faith throughout the country. People would often celebrate by wearing a pinned clover to their shirt and or wearing green, and later on in the U.S. after the Irish immigration parades became a popular way to celebrate St. Patrick's Day.
In modern times, St. Patrick's Day is celebrated to celebrate and appreciate Irish heritage. Many observe this holiday as a time to break out the ol traditional Irish tunes such as "The Irish Rover", partake in Irish traditions, and but of course sport their green and shamrocks!
The History of St Patrick's Day
St. Patrick's Day was originally created in memorial to St. Patrick of Ireland. Although he actually wasn't born in Ireland, he was born in Britain as a Roman citizen who didn't practice any sort of religion. Unfortunately at the age of 16 he was kidnapped by pirates and sold into slavery in Ireland, where he was forced into nearly solitary labor for 6 years. That's an incredibly long time!
During this hardship, he began to develop a relationship with God, and by the time he was set free and returned to his hometown he started his journey being a devoted Christian. Through hard work, focus, and study eventually he became a Bishop and returned back to Ireland where he felt called to spread the Christian religion.
Although Christianity was present in Ireland, the main belief at the time was Celtic Pagan traditions. St. Patrick popularized the Christian religion and developed communities, churches, and monasteries all over the country.
A few popular stories about St. Patrick that are embedded into the holiday today are the shamrock and snakes. Legend has it that St. Patrick drove all of the snakes out of Ireland, riding it of their evil. But history tells us that it is very unlikely there were snakes in Ireland, to begin with, due to the temperature of the water that surrounds the country. The other famous story of St. Patrick was his demonstration of using a 3-leaf clover, the shamrock, to explain the Holy Trinity to the Irish people.
St Patrick's Day Blessings
If you're looking for an Irish blessing to recite on St. Patrick's day, why not practice a prayer written by St. Patrick's Day himself? Below is the direct St. Patrick's Day prayer that you, family, or friends can recite together in commemoration of St. Patrick and his work for the church.
May your days be many and your troubles be few.
May all God's blessings descend upon you.
May peace be within you, may your heart be strong.
May you find what you're seeking wherever you roam.
May the strength of God pilot us, may the wisdom of God instruct us.
May the hand of God protect us, may the word of God direct us.
May thy Salvation, O Lord, be always ours this day and for evermore.
Amen.
Why Celebrate St Patrick's Day: Toasts
It's tradition to give a cheer on St. Patrick's Day, but why celebrate St Patrick's Day toast style? Besides it being incredibly fun and empowering, there's a good sense of fortune in doing so.
Traditionally, with a whiskey in hand, you give a toast of good health, happiness, good fortune and friends/family and before slamming down your drink in hand you and your company will want to shout the phrase Sláinte!
Sláinte is pronounced slawn-CHA and it means health!
Here are a couple of examples of St. Patrick's Day toasts that you are your best pals can cheer for:
Let us raise a glass to the good in our lives, and cheers to many more years of family, friends, and good whiskey! Sláinte!
Here's to a life of good health and even better fortune! Sláinte!
This toast is for St. Patrick, God bless him and his work. And God bless the lives we've been given! Sláinte!
A toast to decent fortune, good health, and excellent memories with family and friends preferably with some whiskey on hand! Sláinte!
Raise your glasses to a life well led by the goodness of the people in your lives, and a cheers to the health and happiness that may comfort you all. Sláinte!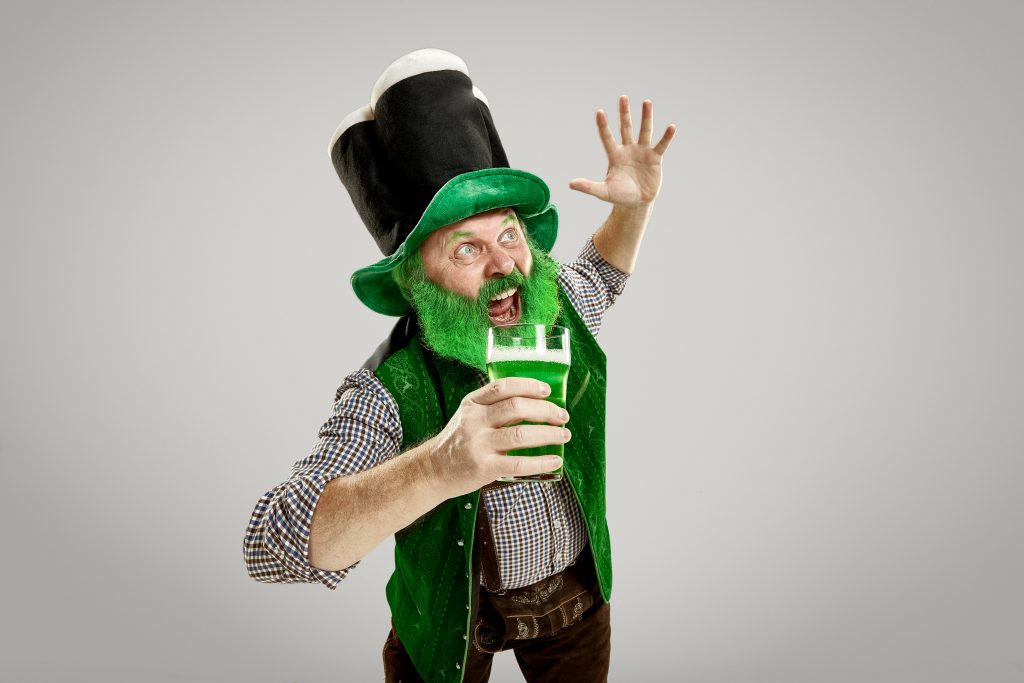 St Patrick's Day Quotes by Celebrities
Want to make your St. Patrick's Day post or message even cooler with a celebrity endorsement? Check out these St Patrick's day quotes by celebrities!
"Whether I drink often or just once in a while; I'm always sure to raise a glass to the dear old Emerald Isle." -Pat Maloney
"Be still and know that I am. Be still and know. Be still. Be." -St. Patrick
"The sun shines in the heart of all the people of the Ireland and keeps us warm. So it doesn't matter if we are having bad weather because we have the power of overcoming that." -Marianne Williamson
"I wish I could be an Irish girl and celebrate St. Patrick's Day in Ireland" -Saoirse Ronan
"You have to believe that you are lucky. The real luck lies in there." -Tennessee Williams
"St. Patrick's Day is a day of enchantments and changes. It's the day when you turn your winter's dreams into the magic of summer." -Adrienne Cook
"St. Patrick's Day is a great day for the people of Ireland but just an average day if you are looking for white wine spritzer." -John Stewart
"The luck you made for yourself is the best luck of all." -Douglas MacArthur
"When Irish people smile they can take your heart away, when Irish people are happy they make the world brighter. In the laughter you can hear angels singing and the pure joy of Irish people." -Chaucey Olcott George Graff, Jr.
"I am Irish and that is a part of me, I carry it wherever I go." -Collin Farrell
"We cannot ever count all the saints of Ireland because they are so many but I can assure you none of them are as friendly, as human and as lovable as St. Patrick." -Stephen Gwynn
"A person tells story and another person disputes them. That's the Irish way of celebrating holidays." -Lara Flynn Boyle
"Love is never defeated and I could add the history of Ireland proves it." -Pope John Paul II
"St. Patrick's day is to celebrate our history, our origin, our greenery. It's a day of our heritage." -Anthony T. Hicks
"St. Patrick's Day is a holy day for the Roman Catholics in Ireland and a day for vomiting with the pants on for the drunkards of New Jersey." -Margot Leitman
"The heart of an Irishman is full of his imaginations." -George Bernard Shaw
"Geographically Ireland is a medium-sized rural island that is slowly but steadily being consumed by sheep." -Dave Barry
"For the whole world is Irish on the seventeenth o' March!" -Thomas Augustine Daly
"Every St. Patrick's Day every Irishman goes out to find another Irishman to make a speech to." -Shane Leslie
"Ireland is a place where you can find poets, Legends, artists, dreamers and rebels altogether." -Nora Roberts
"The perk of being an Irish is you can find family anywhere you go." -Victoria Smurfit
"If you work, if you wait, you will find the place where the four-leaf clovers grow." -Ella Higginson
"Imagine if we were all magical leprechauns, and every wish ever made on a four-leaf clover obliged us to help others obtain their wishes. Now imagine if people simply lived like this were true." -Richelle Goodrich
"The Irish celebrate St. Patrick's Day in gratitude for the service which he did them in bringing to the Irish their most priceless possession—the gift of faith." -Therese Duffy
St Patrick's Day Movie Quotes
Who doesn't love a good movie reference? And throw in St. Patrick's Day, it's a win-win! Here are some of the best St. Patrick's Day movie quotes on the big screen!
"In order to find his equal, an Irishman is forced to talk to God." -Braveheart, 1995
"What Freud said about the Irish is, we're the only people who are impervious to psychoanalysis." -The Departed, 2006
"Why can't I be the cute, carefree Irish guy who sings all the time?" -P.S. I Love You, 2007
"God invented liquor so the Irish wouldn't rule the world." -The Ghost and The Darkness, 1996
"It will come to you, this love of the land. There's no getting away from it if you're Irish." -Gone With The Wind, 1939
"I'm of Ireland, and I'll stay in Ireland until I die." -Far and Away, 1992
"Yeah, it's St. Paddy's Day. Everyone's Irish tonight." -The Boondock Saints, 1999
"You're not in America now, you're in Ireland. So have a drink and shut up." -Leap Year, 2010
Funny St Patricks Day Quotes
"That's right, there's free beer in Irish paradise. Everyone's jealous." -Kevin Hearne
"You can still celebrate St. Paddy's day if you're not Irish. Grab some whiskey, wear some green, and you're part of the Irish team!"
"Many people die of thirst but the Irish are born with one." -Spike milligan
"It's St. Patrick's Day so let's get really drunk!" -Homer Simpson
"Don't be the sham in Shamrock on St. Paddy's day; grab a drink, tell a story, and priase that St. Patrick for all his ancient glory!"
"You can take a man of Ireland, but you can't take out the Irishness of the man." -Tyson Fury
"Being Irish is always cool. But on March 17th, you reach a whole other level of coolness."
"The Irish do not want anyone to wish them well; they want everyone to wish their enemies ill." -Harold Nicolson
"Sure my luck doesn't always land, but St. Patrick's Day is my time to shine!"
"You've got to think lucky. If you fall into a mudhole, check your back pocket—you might have caught a fish." -Darrell Royal
"Green truly is the color of life. And on St. Patrick's Day it's the life of the party!"
"St. Patrick—one of the few saints whose feast day presents the opportunity to get determinedly whacked and make a fool of oneself all under the guise of acting Irish." -Charles M. Madigan
"It's March 17th dontcha know, where the Irish are lucky and the drinks will flow!"
"I'm Irish! When I feel well I feel better than anyone, when I am in pain I yell at the top of my lungs, and when I am dead I shall be deader than anybody."-Morgan Llywelyn
"Never iron a four-leaf clover because you don't want to press your luck." -Unknown
"For you can't hear Irish tunes without knowing you're Irish, and wanting to pound that fact into the floor." -Jennifer Armstrong
"When Irish eyes are smiling, watch your step." -Gerald Kersh
Want some more Irish-filled laughs? Take a look at these 48 Funny St Patricks Day Quotes!
Messages for Cards: St Patrick's Day
How thoughtful of you to get someone St. Patrick's Day quotes in a card, cheers to you! Are you finding it hard to think of what to inscribe inside? Get inspired by these messages for cards for St. Patrick's Day!
Happy St. Patrick's Day to the best Leprechaun I know! All jokes aside, I hope you have a fun-filled day and remember how special you and your life are. Celebrate your wonderful heritage!
It's the day of green, shamrock shakes, and whiskey, your dream come true! Happy St. Patrick's Day to one of my best mates, thank you for always being there for me. I'm giving a cheer to you, wishing you good health, luck, and happiness!
Is it St. Paddy's Day already? I better warn your neighborhood, things might be getting a little rowdy! Have fun and be safe, ya ol Leprechaun!
Happy St. Patrick's Day dear friend! You deserve to have a fun night and give many toasts, as well as receive great toasts. I'll give you your first one: May you always be smiling and may health, good fortune, and happiness always embrace you! Sláinte!
Happy St. Paddy's Day to one terrific person! May you have many years of good health, lucky fortune, and happiness my friend!
This St. Patrick's Day I hope you sport your best green, find the luckiest clover and have so many laughs your cheeks hurt. So take it easy when you sit down and have a drink on me!
After all your toasts tonight, be sure to shout Sláinte before chugging down your drink. When people ask, tell them it means Health! And that's what people cheer for in Ireland. You may actually appear to be smart for once! Happy St. Patricks Day, mate!
St. Patrick's Day always reminds me of you, so of course, I had to get you a card. Have a great day, be safe, and many toasts to you and your future!
Happy St. Paddy's day buddy! Maybe this will be the year you spot a Leprechaun, get a gold coin for me!
A toast to you on this glorious St. Patrick's Day: May your cup always be full of terrific health, good fortune, many years, and excellent whiskey!
St Patrick's Day Leprechaun Sayings
Leprechaun drawings, decorations, or GIFS can be cute and humorously festive to send to someone on St. Patrick's Day! And here are some classic St. Patrick's Day Leprechaun sayings that you can send along with that snappy looking fellow!
Happy St. Paddy's Day, lucky lad!
If you believe in the luck within ya, you might just find your four-leaf clover.
May you feel the rush of the Irish luck!
Race you to the end of the rainbow!
In Irish we trust!
Be a good lad/lass and the Irish luck will shine upon ya.
May good luck grace upon you!
In life you're lucky to find a four-leaf clover, you're mine.
May the luck of the Irish find its way to you!
You deserve a pot of gold!
Let's meet at the end of the rainbow and split the gold.
You're the luckiest charm there is.
Happy St. Patrick's Day!
Don't forget your lucky greens!
Luck doesn't make the lad/lass, but it sure is nice to have!
Decorations for St Patrick's Day
It's fun to go out on the town for St. Paddy's day, but it can get a little rowdy. Why not play host and throw your own bash! Get some decoration inspiration with these awesomely festive decorations for St. Patrick's Day!
You're fully equipped for your St. Paddy's day celebration! Not only are you jam packed with knowledge about this epic holiday, but you can be the life of the party with toasts, quotes, and more! Have fun celebrating this fun holiday, be safe, and but of course Sláinte!