It's National Compliment Day, and you know what that means!… It's time to stretch out of that comfort zone (if you feel comfy doing so) and make someone's day!
National Compliment Day is, of course, about giving and receiving compliments, but it holds more depth than that. We're excited to not only show you some lovely and lighthearted compliments that you can gently give to a loved one or someone you admire but also the background scoop on National Compliment Day and how to celebrate it.
So, let's get that complimentary mindset going and make this an awesome National Compliment Day! And hey, we appreciate you for stopping by.
Want another wholesome holiday to add to the calendar? Check out National Hugging Day!
When Is National Compliment Day?
National Hugging Day is celebrated annually on January 24th!
Absolutely, every year, you can mark your calendar for this sweet and kindhearted holiday that's all about appreciating the ones around you and making someone's day. There are lots of Obscure Holidays that make the year go round, and this one takes the cake at being pretty wholesome!
But how do you celebrate National Compliment Day? Let's scoot over to the section below to find out.
How Do You Celebrate National Compliment Day?
How does one celebrate National Compliment Day? We've got a few ideas to get the ball rolling for you, and plenty of compliment ideas in the section below to keep in mind. Let's explore these National Compliment Day festivities together!
Leave compliment notes for a loved one/friend: Get a pack of sticky notes and start writing! The night before National Compliment Day, write out a bunch of sweet and genuine compliments for the person you have in mind. Next, stick them to their car, outside their door, bathroom (if you live together), or cubical (if you work together). This is a fun surprise and a kind gesture to make their day special.
Make a Compliment Day post: Social media isn't everything, but it sure can spread some good vibes if you put them out there. Make a post about National Compliment Day and spread some kindness! You can even go the extra mile and post on friends' Facebook walls, giving a compliment to them and slapping a #nationalcomplimentday on the end so the word gets out.
Give out a compliment: Whether you're in the coffee shop or waiting for the subway, on National Compliment Day, if you see someone who you appreciate their style or smile, give them a kind compliment! It should be noted that not everyone will receive a compliment the same, AKA, don't be creepy with your compliments. That's a no-no.
Send a compliment card: Here's an old-school way to make someone's day: send them a card with a sweet compliment in it. Extra compliment points if it's a homemade card!
Compliment yourself: It might sound hooky, but self-talk is one of the most important and valuable life tools we can learn for ourselves and our emotional/mental health. So take National Compliment Day as a practice to give yourself some kind words in the mirror or during your day. You deserve it!
Now let's get to the meat and potatoes of this awesome day– the compliments!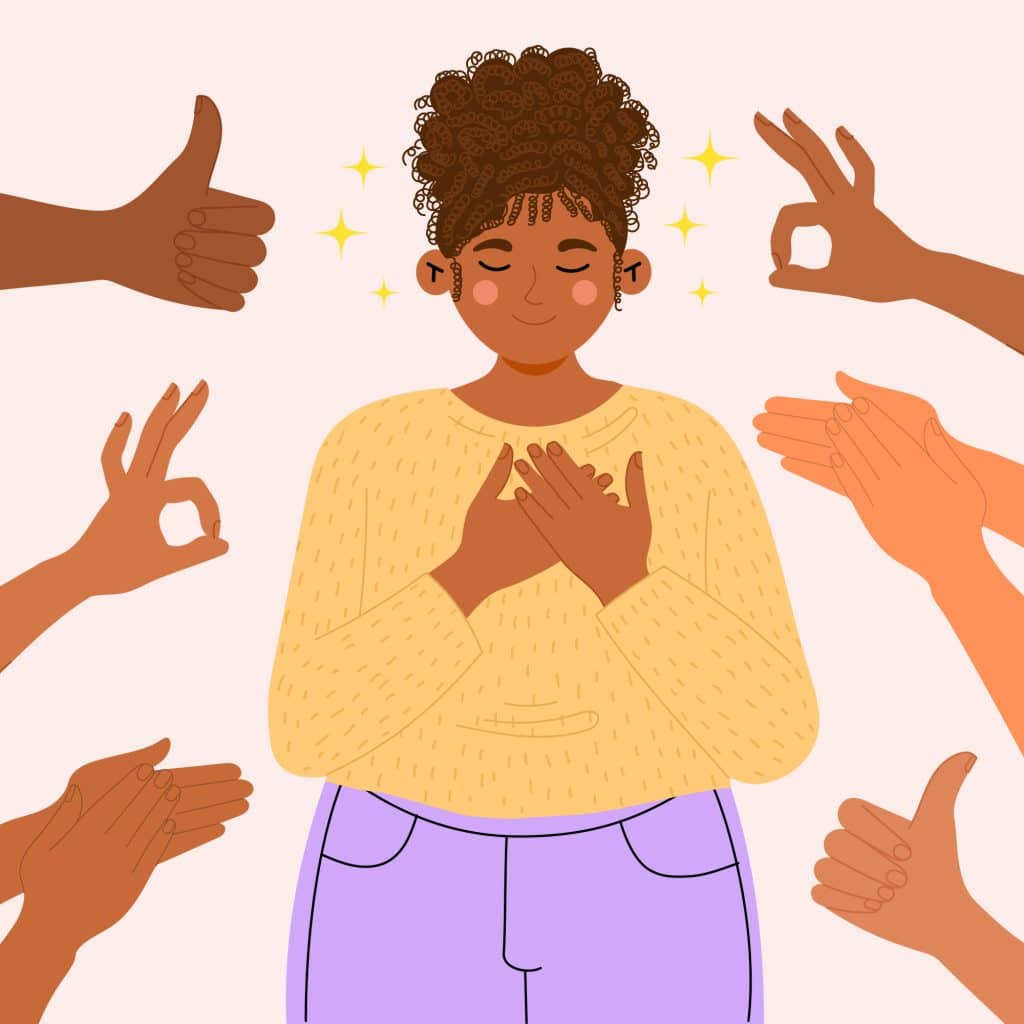 National Compliment Day Compliment Brainstorm
It's raining compliments! Hallalueigh, it's raining genuine and non-creepy compliments … amen!
Put the umbrellas away and soak in the sweet kindness that National Compliment Day provides. Here are some brainstorming compliment ideas to get you in the compliment mindset. Please also read these important reminders before you get started:
Do not force your compliment on someone if they are uncomfortable.
Take these compliments and make them more genuine/authentic for the person you want to give them to.
Harassment does NOT equal a compliment; be respectful.
The compliments listed below are non-physical compliments and have more to do with what's on the inside. *Aww* But complimenting a piece of clothing like, "Those shoes are so cool!" is rad too!
Happiness looks incredible on you
You and Sunshine have a lot in common
You blow me away with your talents
I admire how in tune you are with yourself; I think it's so incredible
You are truly one of the strongest people I know
I find so much beauty and how big of a heart you have
Your passions make me smile, and hearing you talk about them makes me grin even more
You have the coolest taste in music. Would you make me a playlist, please?
I've never seen anyone who has a drive for their passions as much as you
You fascinate me with your brilliance
You've done so much inner work for yourself, and I admire you so much
I love the person you are and who you're growing to be
The world truly wouldn't be the same without you, and you have such a positive energy that makes things better
Your style is beyond cool; you're such an icon
I think it's really cool that you're following your passions, I'm cheering you on!
I'm sincerely proud of you and all that you've been doing; it hasn't gone unnoticed
Your laugh is so contagious, I love it!
Lovely Quotes for National Compliment Day
Let's roll in some lovely quotes that are perfect for National Compliment Day! Why are they perfect? Because they can work well for a little quote to send to a loved one or friend, a nice compliment for yourself to hear, and a terrific caption for your National Compliment Day post!
"You're worthy of the last French Fry in the bag." – Unknown
"Kind words can be short and easy to speak, but their echoes are truly endless." – Mother Theresa
"Never underestimate the power of a random compliment." – Unknown
"Let others see the good that you see in them." – Margaret Manning
"Throw compliments around like confetti." – Unknown
"The less you can compare, the happier you're going to feel. It's really that simple." – Cassey Ho
"Thank you for existing." – Anonymous
"Holy moly, me oh my, you're the apple of my eye." – Edward Sharpe and the Magnetic Zeros
"I bet you could make one of the Queen's Guards crack a smile." – Unknown
"The beauty you see in me is a reflection of you." – Rumi
"Your smile is proof that the best things in life are free." – Unknown
"One kind word can change someone's entire day." – Andrea Reiser
"You're every nice word I can think of." – Unknown
"A single act of kindness throws out roots in all directions. And the roots spring up and make new trees." – Amelia Earhart
"Next time you think of beautiful things, don't forget to count yourself in." – Unknown
"When you do something beautiful, and nobody notices, do not be sad. For the sun every morning is a beautiful spectacle, yet most of the audience still sleeps." – John Lennon
"You are loved, you are valued, you are worthy, you are enough." – Unknown
"To be trusted is a greater compliment than to be loved." – George MacDonald
"The world needs more people like you. Spread your amazingness far and wide!" – Unknown
"Too often we underestimate the power of a touch, a smile, a kind word, a listening ear, an honest compliment, or the smallest act of caring, all of which have the potential to turn a life around." – Leo Buscaglia
"I am very indecisive and I always have a hard time picking my favorite anythings. But I know for sure that you are my favorite." – Unknown
"The world needs you. Unique, beautiful you." – Annmarie Monilna
"You make my world a better place." – Unknown
"You is kind. You is smart. You is important." – Kathryn Stockett
And there we have it, a happy start to your wonderful National Compliment Day! We hope you have a day as INCREDIBLE as YOU!
Take a look at our other Obscure Holidays to keep your year interesting and fun!