Make birthdays more special with unique cat birthday sayings for your families and friends who love their felines! Use these cat birthday quotes to make the sentiments you send to the cat lovers in your life more special and memorable. If you're wondering how you can make someone's birthday an awesome one, and ensure they're feline good, keep reading.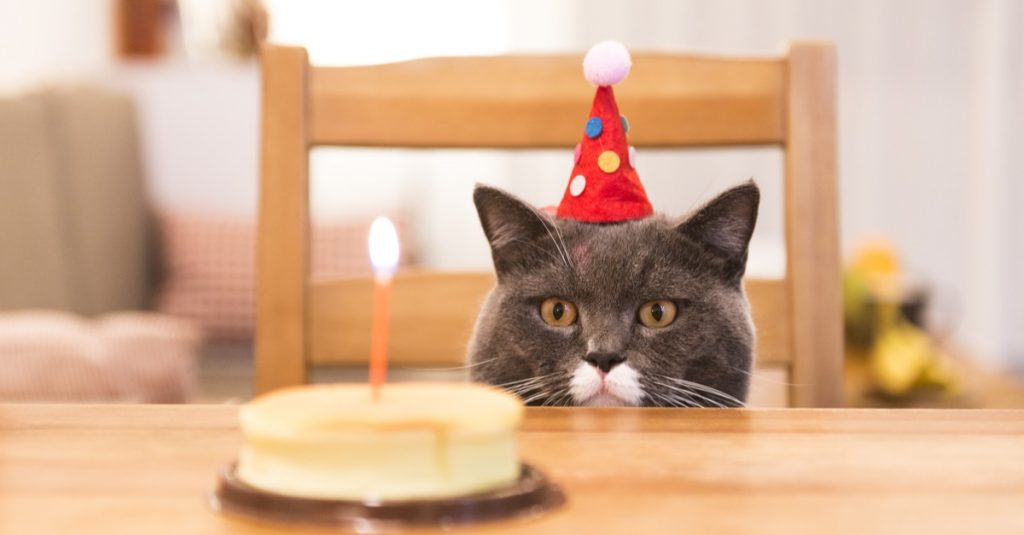 Cat birthday sayings and wishes delight cat parents whether your message is for that crazy cat lady down the block or that enthusiastic cat gent at the office. In addition to birthday wishes, you can also opt to include a cat pun in your message!
These amazing and ingenious cat birthday puns add humor, creativity, and a good dose of laughter. After all, you want that cat birthday card to be purr-fect, right? So, grab your pen and dish out these best birthday wishes for cat lovers, as well as cat birthday puns!
Best Birthday Wishes for Cat Lovers
On your birthday, I want you to relax like a cat, purr like a kitten, and live like you have 9 lives. Wishing you a birthday filled with good health and happiness.
I called your boss and they said you could stay home all day and play with your cats! Happy Birthday!
It's your birthday! On this special day, I hope your cat gives you a good massage, or at least makes you biscuits without kitty litter in them! Best Wishes!
Happy birthday, buddy. I hope that you never get lonely, and I wish that you stay young, cute, and furry like your dear cat.
Cats are beautiful creatures, but you have them beat because you look prettier with every year that passes. Have a wonderful birthday!
A little birdie told me it was your birthday… Luckily, it flew away before the cat saw it! Happy Birthday!
All you need is love…and a cat.
Always land on your feet like a cat when birthdays get you down. Enjoy your birthday and treat yourself special today.
I'll still love you even when we're old and wrinkly and you've filled our house with cats!
Unlike a cat, you might not appreciate getting an empty box to sleep in as a gift. Hope every box you get on your birthday contains a wonderful surprise. Cheers!
Happy Birthday! Grumpy cat wishes you… nothing.
Cats don't care about aging, so why should you? Be happy for another year of waking up to find your cat's favorite toy in your slipper, on your bed, on the stairs, or somewhere else it shouldn't be. Be happy you're celebrating another year of cat-induced bliss. Happy Birthday!
Gather your kitty babies together and make some birthday wishes. I'm praying all of them come true. Have a heavenly birthday!
Kitty, kitten furball whatever you want to call it. I will always see you two as best friends rather than you and your cat. Happy Birthday, dear, and have lots of fun with your cute cat.
Happy Birthday, Tomcat! Stay away from those other alley cats and enjoy your night on the prowl.
You know I am jealous of your cat because she gets more attention than me. Still, it's your birthday and I want you two to enjoy this day to the fullest. Happy Birthday, my kitty loving buddy.
I hope your birthday is filled with lots of furry moments and kitty licks. Wishing you a fabulous birthday!
Congratulations! You're officially another year closer to becoming the crazy cat lady.
What's the matter, did the cat get your tongue? Did you think I wouldn't notice it's your birthday? Wrong. Happy birthday!
We're gonna party tonight for your birthday! It's gonna get cat lady crazy!
On your birthday, I hope someone pampers you the way you pamper your cat. May hugs, kisses and treats brighten your day. Happy Birthday!
Happy Birthday! Your present is in the litter box!
It's your birthday? Big deal… I've had 9 lives!
Okay, the cat's out of the bag. I know it's your birthday, and I couldn't be happier to send you my best wishes. Enjoy this special occasion.
Cats don't get wrinkles, and neither do you. What's your secret? Do you sleep all day too? Oops. Sorry, if I interrupted your catnap. But I just had to send you some birthday wishes.
Happy Birthday, cat lover! I'm as excited as a cat a fish market!
Curl up by the window and take a nap – you've earned it. Happy Birthday!
I love you like the cats love boxes. Have the best birthday.
Don't be as stubborn as a cat and hide. Go out and celebrate your birthday. You're another year older, but who can tell. Best wishes on this special day!
May your birthday be as delightful as a basket full of kittens. Have a wonderful birthday. Have a wonderful year!
Happy Birthday! Just like your cat, you're strong, independent, and you lick yourself when you think nobody's looking.
Happy Birthday! Let's spike the saucer and get crazy!
From one pretty kitty to another – Happy Birthday!
Hope you get lots of love and always stay young and active like your pet cat. Happy Birthday my dear friend and a real cat lover.
Birthdays are like hairballs… the more you have, the more you want to gag.
Happy Birthday! You're my best friend, my world, my everything… second only to the cat.
To a terrific feline who may or may not choose to celebrate at her own discretion… Happy Birthday, Queen Kitten!
Happy Birthday, cat lover! I'd get you a present, but I know you'd just play with the box.
It's your birthday! I'm as excited as a cat at a fish market!
Happy Birthday, crazy cat lady.
You're my best friend, my partner life, my soulmate… My everything… Second only to the cat!
Happy Birthday! Hope you have a day filled with cat cuddles.
Cats rule, dogs drool. Have a great birthday!
Come on, let's throw a party for your birthday tonight! I know we're not so soft and fluffy as your kitty, but we're good company!
Best Cat Puns for Birthdays
Happy Birthday! Can't wait to see you later. It's going tabby awesome!
I love you like cats love boxes. Have a pawsome birthday!
Life is better with cats. Hope you have a pawsome day and lots of cuddles.
Happy Birthday! You look purrfect in cat years!
I'm a smitten kitten. Happy Birthday!
Live long and pawspurr.
Have a meow-gical birthday.
You are purrfect! Happy Birthday!
It's your birthday? Stop kitten around. Let's celebrate.
Happy Birthday. Let's Pawty!
Happy Birthday! Have a pawsome day – hope you make it one to remember!
Have a clawsome day.
Wishing you a purrfect birthday!
Happy Purrthday. Best Fishes!
Have a pawsome day. Hope it is one to remember.
Wishing you a truly meow-gical birthday!
Hope you have a happy purr thday!
Is something going on today? Just kitten. I know it's your birthday!
Let's have a round of all-paws for the birthday girl!
Hope your feline like celebrating coz it's your purr-thday!
You're pretty, smart and funny. I'm one smitten kitten. Happy Birthday!
You're how old? Well, anything is pawsible!
Best fishes and have a mice day!
I wish that you missed me. Then, you would appreciate how long I was gone getting things to make your birthday purrfect.
Have a pawsitively purrfect birthday!
How to Sign a Cat Birthday Card?
Sometimes signing a greeting card is easier said than done, especially if you want to stand out as the cool cat at a birthday party! Sure, you can just sign off with the usual signature or even just write your name, but that can be boring. To end a cat birthday card, try considering these cute ways to sign:
Your purrfect mate
Pawsitively loving you
Your best furr-iend
Stay pawsome
Feline happy for you
Whisker me away
More Sayings, Quotes and Birthday Wishes
Felines are a-mew-sing and so is your cat lover friend. If you cannot get this cat person a furrari (Ferrari) for a gift, a cat birthday card might do the trick. Personalized cat jokes and the sweet messages you put in your card will tug at their heartstrings as much as their cats do!
Need more birthday wishes for special people in your life? Check out other sayings, quotes and messages in the links below: